Concept Art: Pharma Flakes, Engineered Delicious!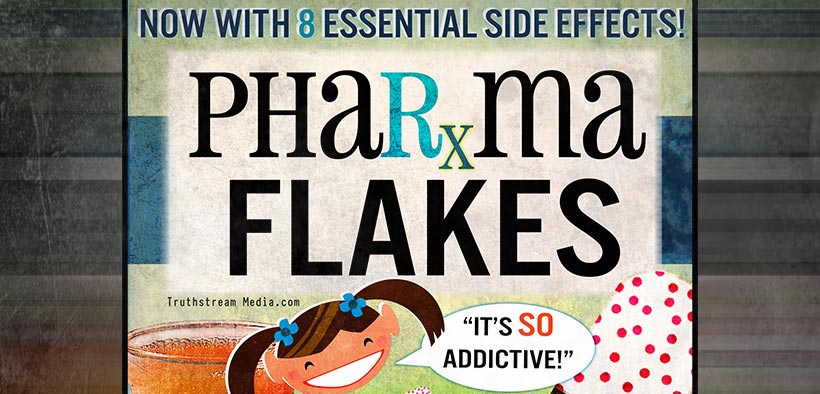 Edible vaccines, including pharma-ready food crops, are all the rage in biotech development
For years, the race has been on to develop effective and cost efficient edible contraceptives and pharmaceutical drugs that can be grown in genetically-modified crops and even delivered by consuming the harvested fruit or veggie.
Freaky, experimental biotech corporations have already developed edible vaccine products ready for market – but were driven out of plain sight due to controversy.
To bring attention to the attempt to drug food staples and foster infertility en masse undertaken by major foundations, NGOs and government bodies, Melissa Melton and Aaron Dykes brought to life the products of the future. Unfortunately, they may become a reality unless we lobby against them, demand transparency and proper labeling of our food, and opt out of their marketplace.
Available in posters, stickers, t-shirts and more, Big Pharma Flakes is the perfect way to provoke conversation about hidden ingredients and support the Truthstream. Please consider these and other custom designs.
Tags: