Never Forget: 9/11 Plane Part Suddenly Found in NY?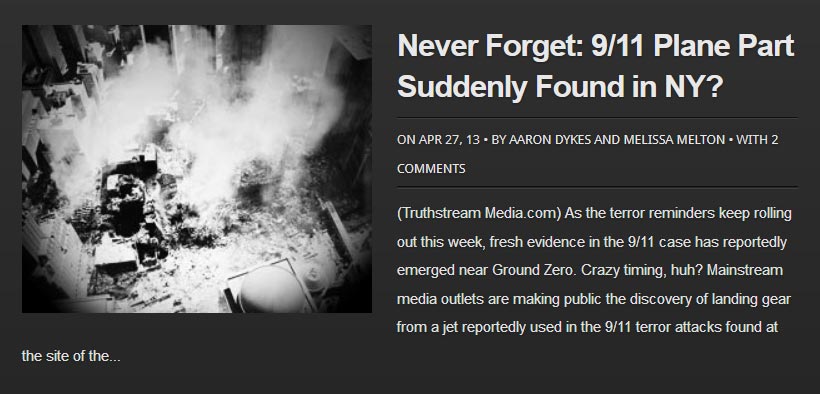 As the terror reminders keep rolling out this week, fresh evidence in the 9/11 case has reportedly emerged near Ground Zero.
Crazy timing, huh? Mainstream media outlets are making public the discovery of landing gear from a jet reportedly used in the 9/11 terror attacks found at the site of the controversial mosque near where the World Trade Center towers used to stand. The five-foot by four-foot by 17-inch piece was found several blocks away in a narrow 18-inch crevice between two buildings.
According to NBC New York, NYPD Police Commissioner Ray Kelly visited the sight, while explaining away how – incredibly – such an important piece of evidence could go unnoticed for more than 11 years:
"It would have had to fall down at a certain angle," said Kelly. Asked whether he was surprised to see such a large plane part anchored in such a tight area, Kelly said: "If you see how confined this space is, and you realize the chaos that existed down here on this street, it's not surprising. It's very, very confined. No cleanup went on in this 18-inch space between these two buildings."
While Kelly attempts to make this sound perfectly reasonable, there's little explanation as to how these remains came to be lodged there in the first place.
Kelly admitted there were no marks at all on the buildings, indicating the jet piece did not hit either building on its way down. With only an 18 inch space, Kelly explained with an apparently straight face how the 17-inch tall piece of landing gear "would have had to fall down at a certain angle."
A more likely explanation would seem to be the possibility that it was placed there with a political purpose in mind. Regardless, the 9/11 wreckage dredged up with it haunting recollections. (Lest we ever forget.)
Commissioner Kelly was sure to comment for news reports that, "It brings back terrible memories to anyone who's here," while making references to the 9/11 victims' families and the people of New York who lived through the attacks.
But what is even more incredible than this unlikely find is its timing. After more than 11 years, these remnants of landing gear just so happened to be found in the aftermath of the Boston Marathon bombing, the first terror attack to kill Americans on U.S. soil since 2001.
And plenty more has been thrown in our faces this past week-and-a-half, making the emotional connections to 9/11 – and other attacks on America – all the more vivid. Shall we count the ways?
Boston Marathon Terror Equated to 9/11
Many Boston Marathon victims have said the Boston bombing reminded them of 9/11, echoing 9/11 President George W. Bush who also went on record to say the same, adding, "I was deeply concerned that this could have been another highly organized attack on the country and it still may be." There are numerous examples of this, too numerous to list, but here are a few more:
It is also being reported that one of the Boston bombing suspects was a 9/11 truther.
Plant Explodes Near Waco
A fertilizer plant also exploded last week, leveling several blocks of a small town called West, Texas, killing 15 people and injuring over 150. Reports on this fresh tragedy once again dredged up the past, noting that it 'invoked memories,' and reminded people of the nearby Waco compound raid (as it occurred two days before the 20th anniversary). Media accounts equating the two events made their way across the Internet and back.
Not quite over the top enough? How about:
London Independent: Texas explosion: Apocalypse returns 20 years later to site of deadly raid on messianic sect holed up in Waco
In fact, the memorial service for the victims was held in Waco as well.
False alert in OKC
Amid the post-Marathon panic, news broke that an abandoned U-Haul potentially holding a bomb was left near where the Alfred P. Murrah federal building used to stand, forcing an evacuation in Oklahoma City. Media outlets reporting on it made sure to note it was near the site of the 1995 bombing that killed nearly 170 people, once again making deliberate reminders of past trauma.
Some outlets just cross-pollinated the tragedies for extra effect:
Alabama.com News: Texas fertilizer plant explodes 'just like the Oklahoma City bomb,' nursing home, school hit
So now the country has been officially been reminded of every recent American terror event in the last three decades. You know, in case you forgot.
Has your new complacency on terror been shattered yet?
Fox News: Boston Bombing Shatters New Complacency
Oh. Apparently it has.
Tags: